NO.177

Natural Interaction with Humanoid Robots

January 23 - 26, 2023 (Check-in: January 22, 2023 )
Organizers
Wolfgang Minker

Kristiina Jokinen

National Institute of Advanced Industrial Science and Technology, Japan

Catherine Pelachaud

L'Institut des Systèmes Intelligents et de Robotique - Centre National
de la Recherche Scientifique, Sorbonne University, France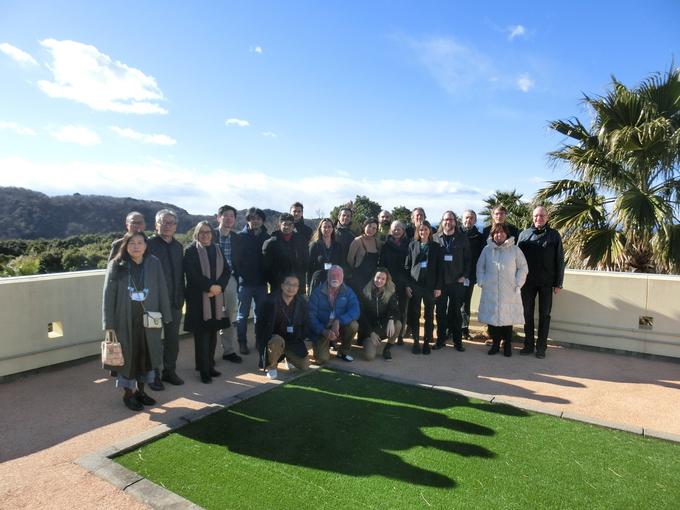 Overview
Important : The venue will be "Shonan OVA", not Shonan Village Center.
Description of the Meeting
Robotics has been a hot research topic for the previous decade and a daydream of many fantasy writers and readers. Significant advancements have been achieved in this field, introducing robots to wide range of applications in everyday life. The scope of applications ranges from restaurant kitchens to prepare the food, over elderly care to help the elderly get out of bed and provide a sense of companionship, up to vacuum cleaners. However, most robotics applications are intended to substitute well-defined and structured human labor or activities. Nevertheless, robotics is an interdisciplinary field of research, that attracts developments from various areas, such as computer vision, mechanical and control engineering, artificial intelligence, etc. Mostly, the applications of robotics focus on supporting a human or replacing him in some specific tasks. In order to integrate robots seamlessly into everyday life and to render it more empathic, humanoid robots have been introduced. They have increased both the research interest and the customer's demand over the last few years. Still, one important part that is missing is the natural interaction between robots and humans. Robots are controlled by a set of commands that usually have to be pronounced precisely in order to have an effect, which introduces a gap between a human user and a robot.
On the other hand humanoid robots if integrated into an everyday life, have a great potential to collect the data and interact with humans in the widest range of situations. This enables to conduct research beyond laboratory conditions, to which current research is predominantly limited, towards naturalistic ones. With an ease of data collection, the data-driven approaches will get prerequisites to be developed and solve the task successfully. Having information from other types of devices and sensors available, robots are more likely to produce a relevant, context-based, meaningful response, compared to an isolated dialogue system. It integrates the rapidly developing area of pervasive computing.
Interdisciplinary work, combining research on humanoid robotics and spoken dialogue-based interactions, may have a significant impact on the development of natural interaction between humans and human-like robots. Spoken dialogue systems interact with users employing speech in order to e.g. provide them with specific automated services, give intuitive access to information/data and enable to adapt to their preferences and expectations. Integrating dialogue systems into robots will help to broaden the group of its users, which makes it possible to greatly expand the amount of applications e.g. sensitive listening, emotion monitoring, stress detection and prevention, etc. Using the insights into interaction between users and humanoid robots and improving the naturalness of the latter, robots will be perceived as more trustworthy and reliable, barriers and fears of contact will be dismantled. To some extent robots will become more human-like or humanoid. However, this will entail the need for the exchange with additional research fields, such as psychology, sociology and medicine.
While the aforementioned research fields have recently been of interest for the respective research groups, questions of Natural Interaction with Humanoid Robots (NIHR) have not been discussed sufficiently in each community. An active cooperation between these communities will create a platform to exchange ideas and benefit from complementary work. We aim to create the first and unique venue for discussion and collaboration between experts from these disciplines. The planned Shonan Meeting will help to explore possible challenges and jointly develop a research agenda for main directions. The meeting will establish a platform for an international collaboration for the next three to five years. As an outcome, we plan to edit a Springer book in the Shonan Meeting Series, in which the participant authors will reflect the main conclusions derived from the discussions.
Research challenges:
Challenges of NIHR.
Role of multi-modal in- and output (speech, gestures and emotions).
Dialogue modeling and appropriate response generation for expressive and adaptive human-robot systems.
Single and multiple user identification, modelling and tracking in NIHR.
Context awareness (automatic detection of stress, user status and environmental context).
Personalization and user-centered development.
Adaptation mechanisms.
Evolution of the technology and ideas for future research and application scenarios.
Role of grounding and embodiment in language and dialogue.
Psychological issues and learning effects in NIHR (robots vs. users).
Role of personality in adaptive human-robot systems.
Trust and reliability in NIHR.
Theory of mind for NIHR.
Use cases, user groups and industrial applications:
Appropriate user groups for NIHR (e.g. elderly, youngsters, and school kids).
Specific application domains for NIHR:

robot-assisted stress prevention.
robots as sensitive listeners.
public space (e.g. interactive digital signage, guidance systems).
assistive environments (e.g. elderly care, hospitals).
education

Success stories, functional systems and industrial challenges.
Development, testing and evaluation:
Experimental design, user studies and evaluation of NIHR.
Investigation of long-term vs. short-term relation in NIHR.
Ethics and societal impact:
Legal issues.
Social responsibility.
Data protection and privacy by design and default.
Social design and development of naturally interacting human-robot systems.
Report